Paradise Sweets, Inc. Shark Sugar Cookie Review & Giveaway
by EJ on 08/14/12
Sharks can be so sweet. Don't believe me? Keep reading.
Paradise Sweets of Honolulu, Hawaii has partnered with Four Little Monsters to give away a dozen Shark Sugar Cookies in honor of Crazy for Shark Week.

These sugar cookies are made using a buttery sugar cookie recipe with a subtle vanilla royal icing. They measure 3'' by 1'' inches and are sold by the dozen, individually packaged in cellophane bags with ribbon.
Paradise Sweets sent the monsters and I a box of these super cute sugar cookie sharks. The presentation was fabulous. Each shark cookie arrived safely in its own small cellophane bag tied with blue ribbon between layers of white tissue paper.

My monsters have been gobbling up these delicious sugar cookies since Shark Week premiered on Sunday night. Of course, I've snuck in a bite here and there, too - okay, a few bites.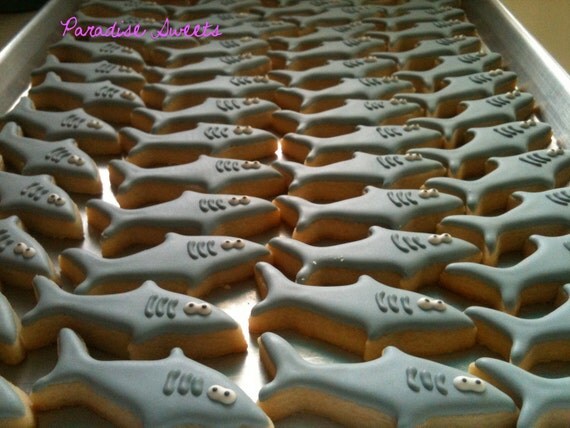 My husband gets all freaked out by cookie icing. To his surprise, the royal icing flavor was not overwhelming at all. We all agreed they were truly delicious and surprisingly light. The subtle vanilla flavor complimented the rest of the cookie so well. The icing design itself was so smooth and so perfect. I couldn't find one imperfection! The silly eyes were just adorable and made ML giggle hysterically. These shark cookie treats were a real hit. KM loved that the cookies were made in Hawaii just for us.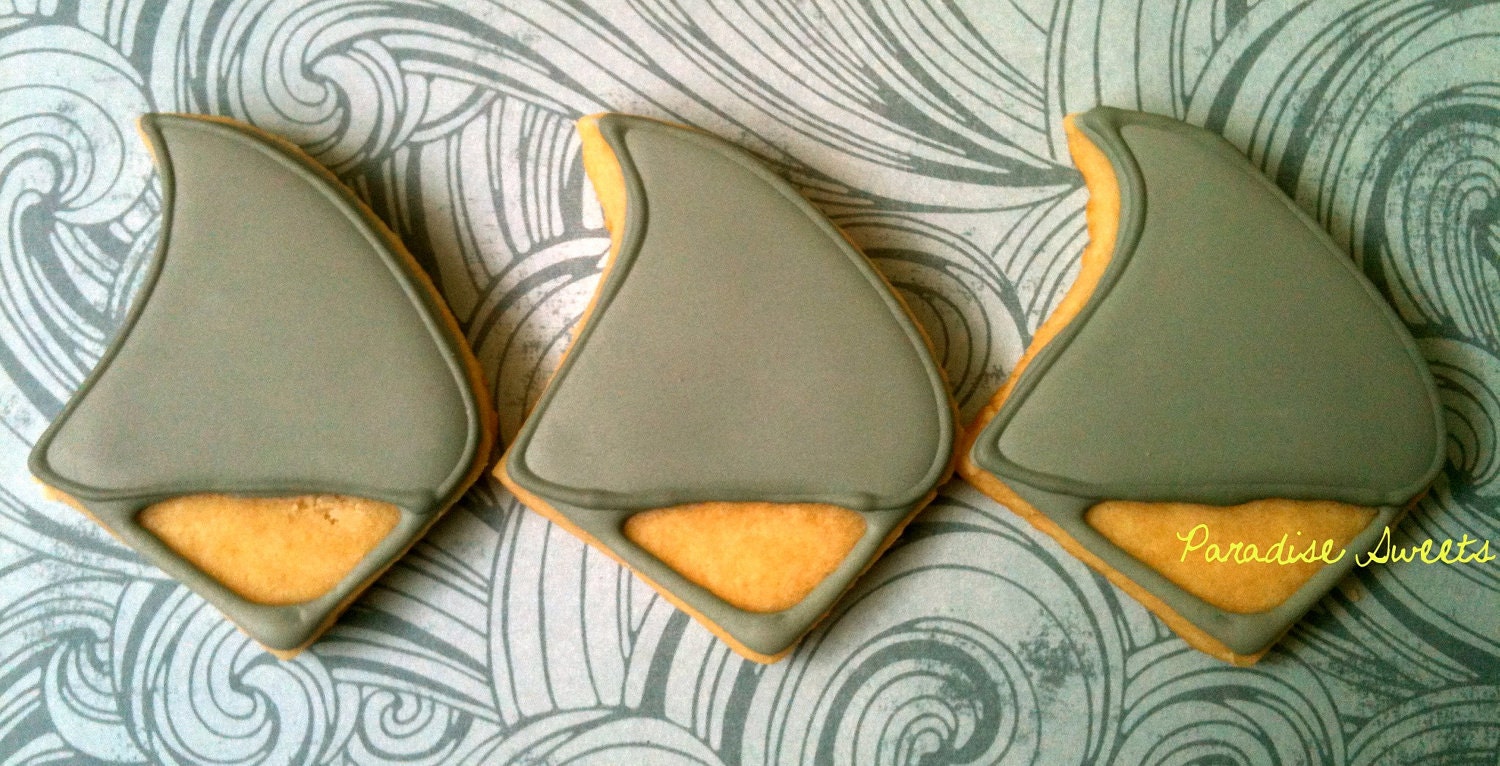 If you think these shark sugar cookies are cute, then you might want to check out Paradise Sweets on Etsy. Aubrey of Paradise Sweets is one talented baker and her assortment of cookie designs and styles is amazing. If you're totally digging the shark cookie idea, then also see her sugar cookie cupcake toppers shaped like shark fins!


There are so many options; I can just imagine all the party themes that Paradise Sweets cookies could accommodate. The artistry and attention to detail is exquisite.

Paradise Sweets Business Bio

Aubrey of Paradise Sweets, Inc. began baking at age 3, inspired by her Mom and two Grandmas. She loved to share her creations with neighbors and friends. When it came time to choose a career, she knew that baking was her calling. She obtained a business degree and attended culinary school in New York. Since then, Aubrey has worked at restaurants and bakeries in Louisiana, California and Hawaii. In addition to running her online bakery, she works as a baker in a gourmet market.

Aubrey loves to work with her own ideas as well as the ideas of local and online customers. She makes her own custom cookie cutters when new designs become popular. Here's an example of a submarine cookie cutter she made as well as the amazing finished product.


Aubrey lives in Honolulu, Hawaii with her husband. She's also an avid outdoors woman and enjoys surfing and swimming.

You can find Paradise Sweets on Facebook. It's a great spot to see "in process" photos and stay up to date on shipping availability and updates from Paradise Sweets.

BUY IT: Buy 1 dozen mini shark sugar cookies from Paradise Sweets, Inc. for $20. Many other designs and styles available (prices vary)! Browse the shop to view the possibilities!

WIN IT: Win 1 dozen mini shark sugar cookies from Paradise Sweets in honor of Four Little Monsters' Crazy for Shark Week. Winner's cookies will be packaged with the ribbon color of their choice and will ship shortly after the winner is announced.

Four Little Monsters received one dozen mini shark sugar cookies from Paradise Sweets for the purpose of this review. All opinions belong to the blogger.