Now taking your kiddie's questions for shark specialists to answer!
by EJ on 08/11/12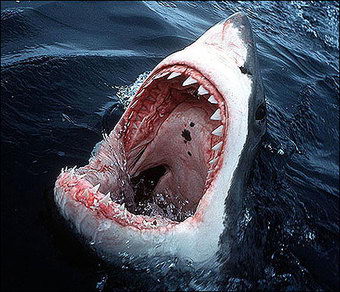 Well, my friends, the time has come... almost. Just ONE day until... SHARK WEEK! I've got a week of shark-friendly posts, reviews and fantastic giveaways lined up. Many thanks to the businesses who provided samples and giveaway prizes for the Four Little Monsters 2nd Annual Crazy for Shark Week Event!

Starting today and throughout the week, I'll take YOUR questions and your children's questions right to the shark specialists at the National Aquarium in Baltimore. You can send me your questions on Facebook, Twitter, or leave a comment here on this post. Let's have some fun with this! Ask your kids... what did they EVER want to know about sharks? What do they want to ask the people that work with the sharks, feed the sharks, swim with the sharks at the National Aquarium in Baltimore?

KM, my 7 year old, has posed the first question: "Were you ever scared to swim with sharks?"

Okay... now ask YOUR kids and send me your questions!